Favors Wins MVP Honors as East Beats West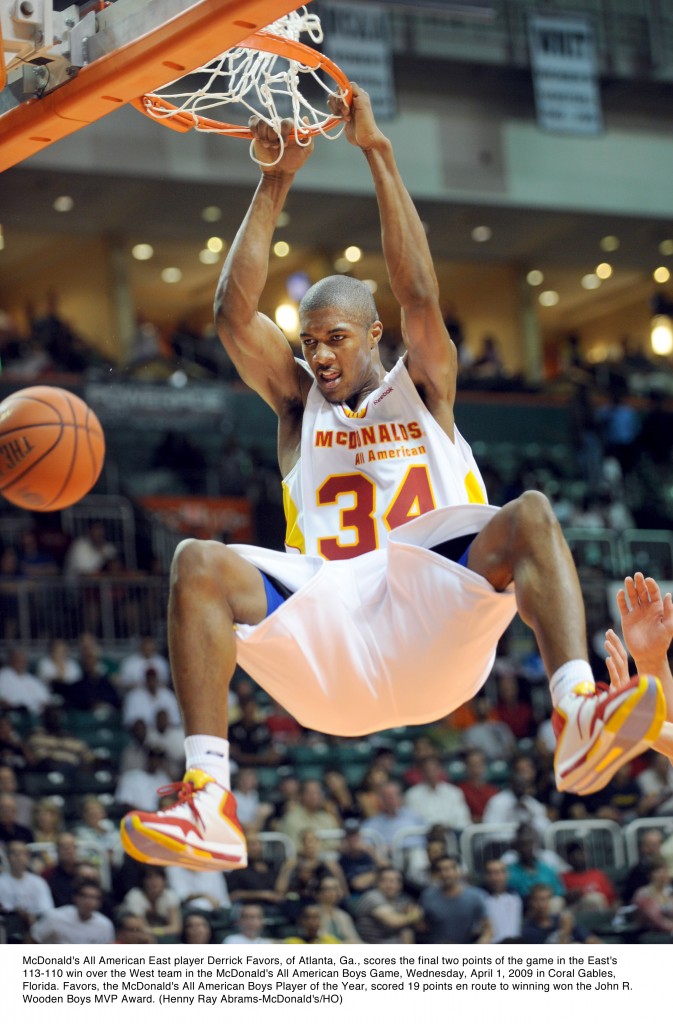 The 2009 McDonald's All American Game was held April 1st at the BankUnited Center in Coral Cables, Florida.  The East squad, led by game MVP Derrick Favors, beat the West squad 113-110.
Favors, who committed to play for Georgia Tech next season,  finished with 19 points on 9 for 13 shooting and 8 rebounds in 18 minutes of play.  The West squad was led by OU commit, Keith "Tiny" Gallon, who had a game high 20 points.  More statistical information can be seen in the official game box score.
These type of games, i.e. All Star games, are typically not good games to evaluate talent.  Like the forthcoming Jordan Brand Classic on April 18th, All Star games shed very little light on the players other than their ability to run, dunk, and turn the ball over.
The offenses and defenses are very lax and don't have the same level of intensity as a regular game.  Regardless, scouts still come to watch and will continue to watch as long as the opportunity persists.  Watching a player in live game action is the pinnacle of scouting and a necessity.  Unfortunately, I wasn't able to attend this year's game in Coral Gables but plan on attending the 2010 game in Columbus, Ohio.  Next year's game will be played on March 31st at Value Center Arena, home of The Ohio State Universtiy basketball teams.
I can't close this post without a big thank you to Brittany Gorniewicz and Emily Fullmer of the public relations firm, GolinHarris.  Along with McDonald's, GolinHarris coordinated the McDonald's All American Games' media and public relations.  Brittany and Emily were extremely helpful and accomodating.  Thanks, ladies!